Skype is easily becoming one of the most used VOIP for personal and business users. Skype communications are by default encrypted. However, you need to do your homework to understand how to keep your Skype safe.
Many people use Skype as their instant messaging system of choice. It is a great way to connect and can be downloaded for free. But, there are still some privacy and security issues that people need to be aware of before they jump on the Skype wagon.
One of the features that people love about Skype is the ability to see all conversations that have taken place on Skype via VOIP and instant messaging. For many businesses, this can serve as a great record to ensure that employees are only making business-related conversations while at work. However, this feature can also put a vulnerability on the user.
Best VPN to Keep Skype Safe
If you can see everything that has been done, there is nothing to stop a hacker or online criminals from seeing this information as well. That is why there are security and privacy settings that you can tweak.  These are going to allow you to keep your information from prying eyes and your Skype safe.
Start Off with Skype Privacy Settings
This should be one of the first things that a person does when utilizing Skype on their mobile or desktop. This step is to secure your privacy. It can be performed from the Options menu, and then click on the Privacy tab.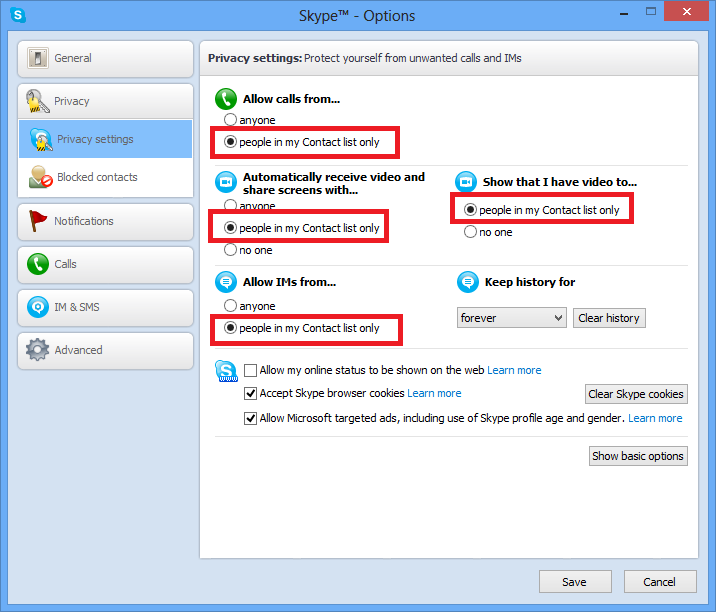 From here, you can click to allow only people on your list to call you or send you instant messaging for anyone to contact you.
Through doing this, you can avoid unwanted phone calls via Skype. You can also block any contacts that you do not want to receive any contact from.
When you click on the Advanced Settings you can also delete cookies and the like from this place.
Your Skype History
One of the best ways to protect your privacy via Skype is to delete the history of what you do while using Skype. This can seem tedious to do each time. Which is why there is an option to stop Skype from keeping a history. Under the Skype Options tab in Advanced Settings simply set the menu "Save chat history" to  Never, and save this. Also, clear the history while you are there.
Add More Security to Skype with 2 Useful Software
There are 2Â services out there that can add to the security that you have while using Skype.
SkypeLogView
SkypeLogView reads the log files created by Skype application and displays the details of incoming/outgoing calls, chat messages, and file transfers made by the specified Skype account. You can select one or more items from the logs list, and then copy them to the clipboard, or export them into text/HTML/csv/XML file.

Download: http://www.nirsoft.net/utils/skype_log_view.html
Virtual Private Network
You can utilize a VPN as a way to add an extra layer of encryption to your internet connection. You can get all the details on how to do that in our article on the best VPN for VOIP services.
If you implement these things into your Skype account, your communications will be safe.